Search Engine Optimisation/ SEO - Brighton, East Sussex
Another Front Page On Google With Our Search Engine Optimisation SEO Service In Brighton, East Sussex
Search engine optimisation is vital to a successful online business.
We offer:-
All SEO work has been proven to increase search engine ranking positions, and we work with you to ensure you are kept informed on all the latest SEO developments.
An SEO Example For A Brighton Based Company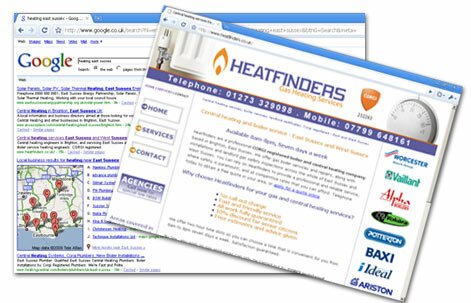 View More Search Engine Optimisation examples >>
Here was a company based in Brighton, East Sussex that contacted us wanting to have a heating services website that would get be on the front page of Google for numerous chosen keywords across Brighton and East Sussex.. We provided them the search engine optimisation study and SEO report and analyzed their competition, and made suggestions as to what it would take to get them on to the front page of Google.
Search Engine Optimisation That Worked For A Company In Brighton, East Sussex
The company decided to go with us out of all the other SEO companies in Brighton, East Sussex and their decision has been vindicated because they now enjoy front page status for their chosen keywords.
Main keyword:
Another competitive phrase:
The website we search engine optimised for this Brighton, East Sussex company are front page for many keywords and regions across West Sussex. The client only wanted a three page website, so to acheive the ranking positions they required was a great result, and the client is delighted with the search engine optimisation service he has received from us. Already with the amount of extra work the website has generated for this Brighton based company, the website has paid for itself ten times over!.
If you require search engine optimisation on your website, or require an expert SEO service from an SEO company that delivers true results, then contact us today.
Googles Pay Per Click (PPC) advertising service can be beneficial if used correctly. We don't advocate pay per click advertising, we prefer to concentrate search engine optimisation to acheive natural organic search positions rather than paid advertising. But it does have its place so if you need any advice just call us, or contact us via our contact page
Search Engine Optimization - SEO Brighton, East Sussex
Brighton is so large it is now considered a city in East Sussex. As you can imagine there are some great companies in Brighton, so a successful search engine optimisation campaign for a company based in Brighton, East Sussex is more difficult to acheive than it is for a lesser competitive area.
To get great SEO results for Brighton based companies takes more effort and work than other areas, which is why it is important to select the right search engine optimisation company. We know what works and how to get your website on to the front page of Google for Brighton and East Sussex.
Brighton, East Sussex SEO
Search engine optimisation is an ongoing process, and there are many aspects to consider. It takes alot of skill, determination and talent from an SEO expert to acheive front page rankings for a county as competitive as Brighton, but the amount of business generated from Brighton and East Sussex is huge. So the initial expense will be a smart investment when the returns are being counted.
Telephone: or , or get a Quote Online.